Case Studies
Heat Services Newtork solves heating problem for a Clonmel family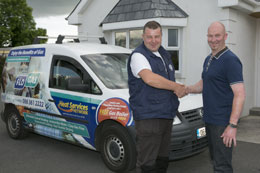 When Eddie started to check out local gas installers, a colleague recommended contacting Heat Services Networks, a Flogas approved and RGII registered independent gas installer. "Flogas and Heat Services Network were very prompt and efficient in calling out to survey my home and supplying a quote for the work, which included the offer of a free gas boiler for E800 from Flogas. It worked out a lot less than their competitor so I decided to go with them," Eddie said.
The conversion only took a couple of days and all went very smoothly and the Houlihan family now use LP Gas for heating, hot water, gas fire and gas barbeque. "I am very happy with how it all went and the new gas boiler is a lot quieter than the old oil boiler. The central heating and hot water is pretty instant and it's a very neat installation too. It's also a great advantage to have our gas barbeque piped into the system and I am impressed with how versatile LP Gas is to use in the home" said Eddie.
"We are receiving an increasing number of enquiries from homeowners who are interested in switching to LP Gas for a number of reasons, including the worry about oil theft.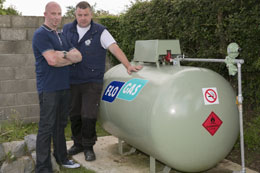 In addition, LP Gas is the ideal option for those looking to switch to a more modern, efficient heating system which is clean and versatile," said Brendan Marin, Heat Services Newtork representative.
As an energy solutions specialist, Flogas can design and implement a complete turnkey solution for your home so why not avail of a no-obligation free survey from ourselves or our network of Flogas approved and RGII/Gas Safe Registered installers nationwide? We'll analyse your existing energy costs and outline the benefits and savings you'll enjoy by converting to Flogas LP Gas.