Domestic Gas - We cover all aspects of gas in your home
Servicing
Just like your car your boiler needs to be serviced annually to make sure that it is performing at its optimum.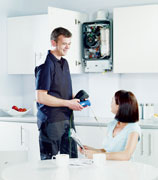 Also you need to be sure that there aren't any more sinister problems such as gas leaks or a blocked flue which can lead to carbon monoxide poisoning.
Carbon monoxide is odourless, colourless and tasteless, which makes it difficult to detect. Some potential signs are black residue around the boiler and condensation. If left unchecked it can leak into the rest of your home and at the very least damage your health causing headaches, nausea or drowsiness. In serious cases it can even lead to death.
For the sake of an hour or so of your time and approximately €70 you can ensure that your boiler is not only operating efficiently but also we will check it for any defects that could potentially cause harm to you or your family.
Whether it's a boiler, fire, cooker, hob, oven or tumble dryer we offer a service you can trust.


Breakdown
If your boiler lets you down you will want it repaired with the minimum of fuss. We understand what it means to be left without heat and hot water so will work to get you up and running as quickly as possible.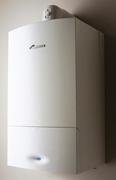 Replacement
Sometimes it isn't economical to repair an existing boiler or the parts for it may have become obsolete. If we find this to be the case we will give you the option to proceed with a repair or alternatively arrange a brand new replacement. If we deem a replacement to be necessary then we will record details about your existing system there and then (including size of boiler, location and existing pipe work). We will then very quickly prepare you with a no obligation quotation for the best match replacement. Our aim is to identify a high efficiency replacement that will need the least amount of changes to your existing pipe work. This ensures that we can keep the replacement cost as low as possible for you.
System treatment
Are your radiators cool at the bottom and only hot at the top? Perhaps your house never quite heats up sufficiently, even after the heating has been on for several hours. If so the chances are that your radiators have a build up of scale or sludge. This means that they are not working at their optimum, are very inefficient and you are wasting money on gas and not getting the benefit of a nice warm house. Often output can be impaired by up to 50%. Thankfully this can be resolved fairly easily, often without the need for replacing the radiators. To do this we have a range of options including magnetically cleaning out the system..